On Sale
ShutterGrip™ 2 Bundle
*Due to transport restrictions placed on lithium batteries by some countries and carriers, we may not be able to include a CR2032 coin battery in the package. In that case, you can buy it locally at drug stores or supermarkets.

The Bluetooth Pocket-Size Transforming Grip for Street Photography 

ShutterGrip™ 2 instantly transforms your smartphone into a serious camera. It uses a tensioned grip to attach to almost any smartphone - case or no case - and provides a solid, ergonomic handle and wireless shutter button. No more shaky shots or photographic fumbles.
You can use it as a camera grip, a video grip, or a stand. It even has a built-in selfie stick, a standard size tripod thread, and an integrated cold shoe. The detachable Bluetooth remote allows you to take perfect shot even when you are not holding your phone. With multi-directional rotation,  ShutterGrip™ 2 is the perfect tool for grab-and-shot at tricky angles, in portrait and landscape mode.

Features
Non-slip ergonomic grip for taking photos and videos

A phone stand for portrait and landscape mode

Removable bluetooth shutter release

Auto connection and auto power-off

Built-in selfie stick 

Integrated cold shoe

Tripod thread and lanyard hole (wrist-strap included)

Compatible with most iOS and Android smartphones including Apple iPhone and Samsung Galaxy
DIMENSIONS
BOX CONTENTS
ShutterGrip™ 2 * 1
Pouch * 1
Lanyard * 1
User Guide * 1
CR2032

Lithium 

Battery * 1
Apple: iPhone 13 Pro Max, iPhone 13 Pro, iPhone 13, iPhone 13 mini, iPhone 12 Pro Max, iPhone 12 Pro, iPhone 12, iPhone 12 mini, iPhone 11 Pro Max, iPhone 11 Pro, iPhone 11, iPhone XS Max, iPhone XS, iPhone XR, iPhone X, iPhone 8/8 Plus, iPhone 7/7 Plus, iPhone 6s/6s Plus, iPhone 6/6 Plus, iPhone SE2, iPhone SE
SAMSUNG: S10/S10 Plus, S10e, Note10, Note10+, A80, A70, A50, S9/S9 Plus, S8/S8 Plus, S7 edge,Note10/10 Plus, Note 9, Note 8, Note 5, J7 Prime, J7 Plus, J7 Pro, S8, S8 Plus, A8 Star, A7, A6+
Above list is not a complete. Compatible models only require Bluetooth 4.0+ support and use side volume up key as the shutter button 


"Got mine (black) today. Its one of the best thought trough products I ever got. It is of great quality and seems durable. That is a "take everywhere" item. Thank you JM for this."  -From Kickstarter Backer

"I received my new grip today. I supported you on the first one too. This new one is DA BOMB! I love it. It's a little tricky to figure out simply because it does so much more than the previous model. I am sure I will get familiar with it with use." - From Kickstarter Backer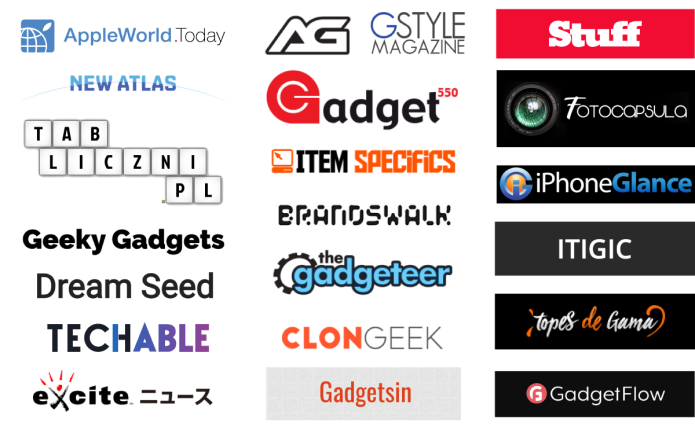 FAQ

Q1: Is ShutterGrip compatible with a smartphone in a case?
A1: Yes, as long as the width and depth of the smartphone (with/without a case) are within the specs below, then the smartphone will fit.
Bracket width (max): 3.4in/85mm 
Bracket depth (max): 0.4in/10mm 
Q2: What kind of battery does ShutterGrip 2 use? How do I replace it?
A2: ShutterGrip 2 uses CR2032 Lithium battery that is readily available in supermarkets and stores. 

Q3: How long will the battery last?
A3: A new battery in ShutterGrip 2 will last up to 180 days, if used 500-presses per day. Useful life will be longer or shorter depending on usage.
Q4: Is ShutterGrip 2 usable left-handed?
A4: ShutterGrip is usable regardless of your hand orientation. Clip ShutterGrip on either end of your smartphone and find the hand grip that best suits your preference.

Q5: Is ShutterGrip 2 suitable for video taking?
A5: ShutterGrip 2 provides the most stable and comfortable grip that allows you to handle your smartphone even on the move.

Q6: Does ShuttleGrip 2 have a wrist strap?
A6: ShutterGrip 2 includes a nylon braided wrist strap that provides added security and peace of mind, while you capture your moments.

Q7: How do I know if my smartphone has compatible support?
A7: Compatible smartphone must be an iPhone running iOS 9 (or later) or an Android running 5.0 (or later). The smartphone must support Bluetooth 4.0 (or higher) and already uses volume key(s) as shutter key in camera mode. If pressing your volume key doesn't take a shot in the camera app, look in the phone settings for ways to turn this function on first.
Q8: How do I turn ShutterGrip 2 off?
A8: ShutterGrip 2 automatically turns itself off after 3 min of idling while disconnected, ShutterGrip 2 automatically turns itself off after 10 min of idling while connected. There is no on/off switch to worry about. After it is turned off, a press of the button will wake up ShutterGrip and attempts to connect to your paired smartphone again, automatically.

Q9: Can ShutterGrip 2 pair to multiple phones? 
A9: Yes. ShutterGrip 2 can pair to multiple phones, but it can only connect to one phone at a time. If ShutterGrip 2 is connected to phone A, phone B will not be able to connect to the same ShutterGrip 2 even if it had paired before. Phone B can connect to the ShutterGrip only when Phone A disconnects with the ShutterGrip 2 first.

Q10: Can multiple ShutterGrip 2 pair to one phone? i.e. Can multiple ShutterGrips control shutter release of the same phone?
A10: Yes. Multiple ShutterGrips can pair to the same phone, and each ShutterGrip 2 will appear in the Bluetooth device list in Settings. But only one ShutterGrip can be connected to the phone at any one time. The other ShutterGrips will not be able to connect concurrently while existing ShutterGrip connection is present.

Q11: Does ShutterGrip 2 support burst mode when taking photos?
A11: Yes. Press-and-hold the ShutterGrip 2 button will trigger different behavior with different generation of iPhones. 
For iPhones models prior to iPhone XS/XR/XS Max, press-and-hold will trigger the burst mode. 
For iPhone XS/XR/XS Max, press-and-hold will trigger video recording instead. (To get the burst mode in iPhone XS/XR/XS Max, you'll need to press the shutter button "on the screen" and drag it to the left or right.